Republic Rebels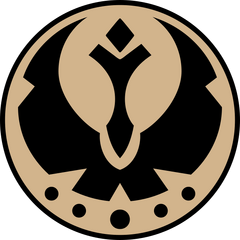 F A C T I O N - I N F O R M A T I O N
The Republic Rebels as they are commonly called are actually an extension of the Republican-elements of the New Republic who wished for a galactic government without the prying influence of the New Jedi Order. The Republic Rebels officially operate as the "Republic", without naming themselves as the New Republic or Galactic Republic. The Republic Rebels can be best described as a collection of anti-force guilds, political movements opposed to the Jedi and a collective of businesses that support anti-Jedi policies and are looking for a less moral government to support their policies.
The Republic Rebels are led by the shadowy "Rebel Commander" who serves as the head of state of the Republic Rebels and heads the High Council, a collection of senior advisors to the Rebel Commander themselves. In keeping with the representative nature of their predecessor the Republic Rebels maintain the Council of the Republic. The Council of the Republic has representatives from all systems that fall underneath the sway of the "Republic". As a means to sound like the victim to the Jedi Republic, the Republic Defense Forces are the armed forces of the Republic Rebels. The Republic Defense Forces are commanded by the Rebel Commander as their Supreme Commander with two branches the Republic Merchant Fleet and the Republic Defense Army.
The Republic Intelligence Agency is charged with all matters of intelligence of the Republic Rebels and the Republican Guard are a shadowy, secret police force of the Republic Rebels charged with rooting out force sensitives and elements considered undesirable by the Republic itself.
A R E A S - O F - I N F L U E N C E - A N D - C O N T R O L
Naboo (Naboo system, Chommell Sector, Outer Rim Territories) - Capital
B R A N C H E S - O F - T H E - R E P U B L I C A N - R E B E L S
High Council
Council of the Republic
Republic Merchant Fleet
Republic Defense Army
Republican Guard
Republic Intelligence Agency