Vengeance Squadron
[/b]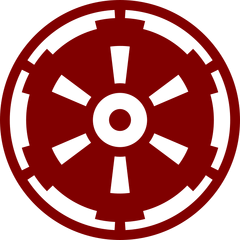 Symbol of Vengeance Squadron
H I S T O R Y
---
The Vengeance Squadron was assigned as the personal squadron of the Equerry to the Moff Council, Aeaolen Kicka. Vengeance Squadron was present at the bombardment of Bastion and is one of the last remnants of the Imperial Navy, it fled into hyperspace just as reinforcements from the New Republic Navy were coming into orbit around Bastion. Vengeance Squadron floundered around the galaxy before arriving on Ziost and their former Equerry dedicating himself to life as a Sith Lord known as Darth Abaddon.
Following the collapse of the Imperial Order the majority of Vengeance Squadron was retained by the now Sith Lord known as Darth Abaddon, lending to the Sith Lord's strength and influence. Nearly 75% of the Sith Lord's ship are damaged and barely usable or in complete disrepair and is currently orbiting Ziost. Vengeance Squadron's ability to repair is incredibly hampered due to the lack of shipyards or docking facilities.
L E A D E R S H I P
---
Commander Officer (CO)
- Darth Abaddon
Executive Officer (XO)
-
Commander
Admiral Sarkin Terrax
Headquarters
-
Palatine
(Mobile) but normally located out of Ziost in Sith Space
War Council
- Lending to his days as a member of the Imperial Order, Darth Abaddon formed and elite cadre of senior officers to serve as advisors to himself and Admiral Terrax, thus forming the squadrons war council.
-- Darth Abaddon
-- Admiral Sarkin Terrax
-- High Colonel Brutus Trammer
-- Senior Captain Maris Endel
-- Senior Captain Siot Gosular
-- Junior Captain Tormax Solborne
-- General (SFC) Byrec Kruger
Note: Italicized words denote positional titles, meaning that they are titles awarded when placed in a leadership role. For instance Sarkin Terrax holds the rank of Admiral but holds the position or title of
Commander
of Vengeance Squadron while simultaneously holding the position of
Captain
of the
Palatine
.
C O M P O S I T I O N
---
(1) Imperial II-class Star Destroyer
"Palatine"
-
Captain
Admiral Sarkin Terrax
-- 17th Stormtrooper Legion - High Colonel Brutus Trammer
---- 103rd Imperial Fighter Wing (TIE Defenders) -
Wing Commander
General (SFC) Byrec Kruger
(1) Attack Line -
Captain of the Line
Senior Captain Maris Endel
x2 Vindicator-class Heavy Cruisers
Palpatine
(Flagship)
-- 71st Imperial Fighter Wing (TIE Interceptors) -
Wing Commander
Colonel (SFC) Tarand Sinite
-- 37th Imperial Bomber Wing (TIE Bombers) -
Wing Commander
Colonel (SFC) Eranas Harna
x1 Enforcer-class Picket Cruiser
x2 Imperial II-class Frigates
-- 706th Imperial Fighter Wing (TIE Fighters) -
Wing Commander
Colonel (SFC) Anson Lank
-- 101st Imperial Fighter Wing (TIE Fighters) -
Wing Commander
Colonel (SFC) Derryn Nhagy
x2 Strike-class Medium Cruisers
x2 Raider-class Corvettes
x2 Lancer-class Frigates
(1) Attack Line -
Captain of the Line
Senior Captain Siot Gosular
x1 Vindcator-class Heavy Cruiser
Shadow Hand
(Flagship)
-- 915th Imperial Fighter Wing (TIE Fighters) -
Wing Commander
Colonel (SFC) Ronium Lasoo
x2 Dreadnaught-class Heavy Cruisers
x2 Imperial II-class Frigates
-- 103rd Imperial Bomber Wing (TIE Bombers) -
Wing Commander
Colonel (SFC) Raxle Landwr
-- 706th Imperial Fighter Wing (TIE Fighters) -
Wing Commander
Colonel (SFC) Crysenia Floto
x4 Raider-class Corvettes
(1) Pursuit Line -
Captain of the Line
Junior Captain Tormax Solborne
x2 Imperial II-class Frigates
Iron Hammer
(Flagship)
-- 11th Imperial Fighter Wing (TIE Fighters) -
Wing Commander
Colonel (SFC) Valaras Dahn
-- 600th Imperial Fighter Wing (TIE Fighters) -
Wing Commander
Colonel (SFC) Krava Dyer
x2 Carrack-class Light Cruisers
x2 Raider-class Corvettes
x2 Lancer-class Frigates